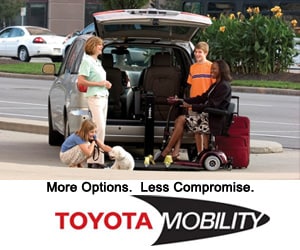 Toyota began providing mobility solutions back in 2001 by introducing the Tundra pick-up truck with a wheelchair lift. Since then they continued to expand their vehicle lines that offer mobility assistance products and partnered with some of the best conversion companies in the market today: BraunAbility has been converting Sienna ramp vans and Bruno Independent Living Aids is installing lift-up seats in nine of our most popular sport utility vehicles including RAV4 and Highlander models. Wheelchair lifts, scooter lifts and hand controls are available on most of Toyota models.
The culmination of all this has led to the North American, auto industry-first, factory installed auto access seat (AAS) that is available in our all 2018 Sienna minivan.

At John Elway's Crown Toyota, our commitment to you is to continue to provide some of the best mobility solutions on the market today.

Please browse our page and take a look at some of the incredible videos we have posted below of other Toyota Customers, their observations and testimonials and the latest video directly from Toyota on the Sienna Passenger Van.