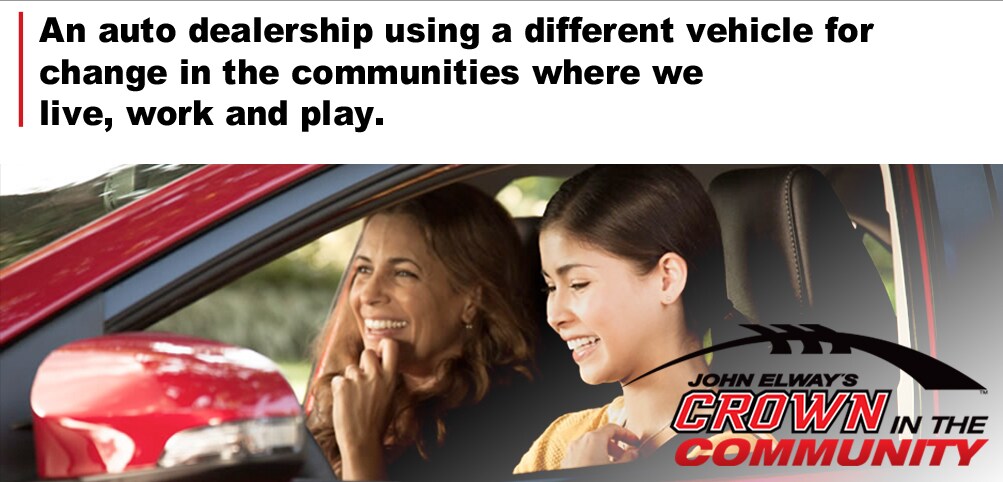 At John Elway's Crown Toyota Scion, we believe in giving back to the communities that help make us a success. Crown In The Community was formed off of one simple philosophy; we wanted to
 find a way do more than just sell and service great cars, we wanted to give back.
We believe that we are accountable to our communities and future generations. That is why we work to replenish and invest in our communities. We partner with like-minded groups whose mission is to serve the members of our community, sewing seeds of hope, love, and generosity in the daily lives of people. Crown in the Community is a reflection of the amazing spirit of every person we live and work with in Ontario, and Inland Empire. 
We are proud to be a part of the communities we serve and honored to be in a position to help others. Simply said, it is just what good neighbors do.


---
Look at some of the amazing featured companies we partner with who invest in our community and create lasting change that leads to a better place to live and work. 
We do our best to support our local immediate surrounding community. If you are interested in a partnership with John Elway's Crown Toyota, and are a 501 C3 organization, we have a rolling application process based on our 3 support categories. Click
HERE
to contact us about partnership information.
Children's & Human Services: January 15th - February 15th
Education: April 20th - May 20th
Military & Public Safety: July 15th - Aug 15th