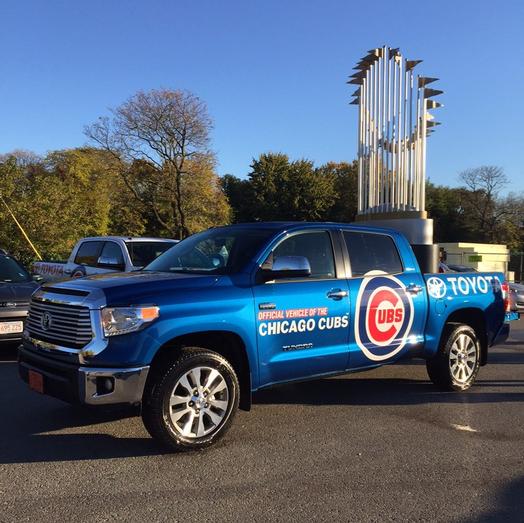 Toyota, the official automotive sponsor of the Chicago Cubs and Wrigley Field, congratulates the Cubs on their historic World Series Championship!
During the victory parade, a ten-foot-tall replica of the World Series trophy will be carried in the bed of a 2017 Toyota Tundra. A second Tundra will carry Clark, the official mascot of the Cubs, who will be waving to fans along the parade route. A RAV4, featuring an exclusive Cubs wrap, will round out the lineup.
Last year, the Cubs and Toyota announced a long-term Legacy Partnership establishing Toyota as the Official Vehicle of the Chicago Cubs and Wrigley Field beginning in the 2016 season.
As part of the extended partnership, Toyota's logo is prominently featured on the panel beneath the Wrigley Field Marquee at the corner of Clark and Addison streets. In addition, Toyota is the presenting sponsor of in-game manager challenges and umpire reviews. Also, they receive in-game rotational signage behind home plate and on the left field video board. The logo is also featured on field-level signage and Toyota vehicle names are affixed to Wrigley Field parking lots.